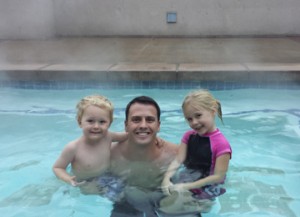 It hasn't always been the case, but recently DILFs have become huge. A Dad I'd Like to F**k is basically just a hot guy who has a kid, but also so so much more than that. Because men are becoming stay at home dads (see the statistics) and single dads more often, it's considered incredibly hot when they're also good dads. Obviously if you don't have a kid yet you're going to have to wait to become a certified DILF, but when it happens you'll be prepared because you'll know what it takes to be one. For those of you who have the kids, this is how you get to the ILF in DILF.
Keep Yourself Up
Yes, having a child is a huge amount of work. You have to constantly care for a small human being who just doesn't know how to do stuff yet. But among all that chaos you have to take care of yourself. A good way to do this is to have either your partner take care of the child or, in the event that there is no partner, see if a family member or friend can watch the kid for a few hours a week. Make it a weekly thing that on Wednesdays you get a few hours to yourself to workout, catch a movie, or do something that benefits you. You might feel guilty at first, but this is key to making sure that you don't run yourself ragged.
Be a Good Father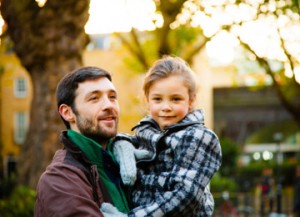 It doesn't matter what your physical appearance is, the fact that you're a good dad is enough to make you bangable. She wants to see you out there playing with your child instead of sitting on the bench. She wants to see you wearing a super hero cape to match your kid's. If you're playing teatime in the park with your daughter, be proud of it. Being so committed to your kid is hot as hell, so let the world see it. Taking the kids out to the movies or the store to run errands can even get some guys and ladies hot under the collar.

Fashion
Again, we get that kids aren't easy. They take work, but that doesn't mean that you should slack off and start wearing sweats everywhere. Make sure that your closet is stocked with items that are easy to wear but still fashionable. Nothing should have unintentional holes in it, be too big, or too loose. Even your "just running errands" outfits can be comfortable but look good. Some fashion tips for dads here. If you're going out, accessorize; with your kids. Holding their hands will be the sexiest thing that you can do, which sounds really weird, but just go with it. The only way that anyone will know if you're a dad is if your kids are obviously your kids. You aren't the weird uncle, you're the one that made them. Show it off.
Being a DILF is for everyone, no matter what you might think. The looks and the attitude help it out, but really it's all about being there for your kids.